With your support, Malak, a two months baby with a tumor half her weight, is recovered from kidney cancer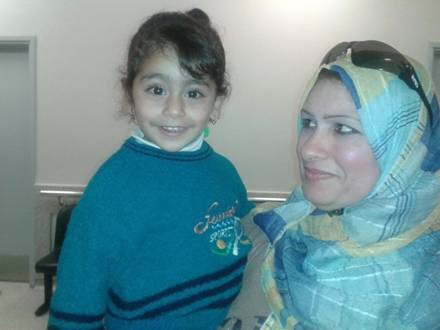 At 2 months of age, Malak weighed a mere 4 kg. Half of this weight was a tumor located on her adrenal gland. She was horribly weak when admitted to 57357 , accompanied by her distraught mother, who held great fears of losing her.
Now, Malak is a vibrant 3 year old child who never seems to stop playing. Her mom has regained her serenity and happiness.
Malak's treating physician, Dr Emad Mousa reveals: "To treat babies who are just a few months old, we follow a very cautious protocol so as to not affect her/his small organs. Thus, we first provided Malak with 3 simple chemo doses followed by another 3 doses after the surgery. The latter  was the most critical step on her road to recovery."
"When Malak was only 6 months old I remember waiting, with a trembling heart, forabout 10 hours until she completed the surgery to remove the tumor.  I am thankful for the physicians and nurses for their dedication to save the children with cancer, now my daughter is cancer-free",  Malak's mom exclaimed. "Thanks also to the many donors, as we have never been asked to pay a single coin towards the expensive treatment costs", she added.
Thank you to all our donors whose support enables us to provide Malak and many other children with unique quality care for free. With your support, 72 % of the children admitted at 57357 are cured. But there are still many children who lose their chances of cure, because of the Hospital's present over-loaded capacity. Keep supporting us, so that we could bring to completionour ambitiouscapacity expansion program, the 300-bed in-patient tower, the health and sciences training Academy, the Research Institute and the proton therapy.
.