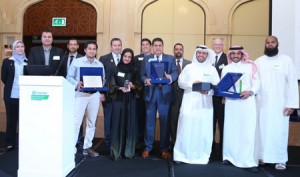 I had the chance to chat with members of the 57357delegation who attended the 2015 Cerner Achievement & Innovation Awards early June in Dubai. Members of the delegation included Haytham Allam, medical applications Manager, IT, Research Nurse Wessam Ahmed, , and Dr. Walid Magdi Hassan, research department. Each one presented his work at the sixth annual Cerner Middle East Regional User Group Meeting, a two-day, knowledge-sharing event to which  Cerner Middle East clents' health care leaders, clinicians and IT professionals are exclusively invited. The event is a good exposure to best practices and  latest developments in regional health care.  During the event Cerner acknowledges clients that present quality solutions and the best health care IT system applications or projects from the previous 12 months at an awarding ceremony
"57357 was recognized for being the fastest with the least number of clicks to place patients' orders to the Cerner system worldwide." reveals to me Mr. Allam, who further explains that this is reflecting the ease with which users of the Cerner system are operating and the benefits for the patients in terms of shorter waiting time. Mr. Allam presented the IT department's contributions to the integration of all Hospital data computing systems with the Cerner Informatics system within a big data warehouse. In doing so, the IT department is pursuing to render all patients' data( medical and operational) rapidly and timely accessible for management to make sound and informed decisions. As such, when, research nurse Wessam Ahmed, was pursuing to develop a system by which it would exercise a closer and more watchful follow-up on her low-grade glioma patients, with the support of the IT team, she devised a checklist which utilized the combination of both the Cerner system and other computing systems in use by the Research department. This is a list that will enable her to closely monitor and maximize the outcomes of this category of brain tumor  patients which require complex treatment protocols varying according to patient-response.
As for Dr. Walid Magdi Hassan, 57357's researcher, he presented his department's latest accomplishment: customizing the globaly used REDCap (Research Electronic Data Capture software) to integrate it to the Hospital's health informatics systemby Cerner, which enables the automatic capturing of clinically recorded data of patients for timely statistics and reporting at just one click away. This rapid and accurate reporting system enables us at 57357 to monitor patients' outcomes at any time point in time and to guide allocation of resources and utilization of new opportunities.
With the above three presentations, the Hospital was highly praised for having automated its cancer registry process by integrating Cerner Electronic Medical Record reporting capabilities and received an" Achievement & Innovation in Patient Care Delivery in Departmental Experience'* award.
.