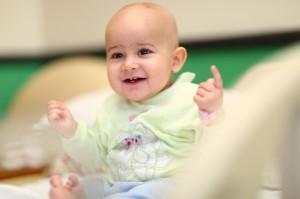 Egypt Cancer Network: A channel Between the U.S. and Egypt to support Egyptian cancer patients
The holy month of Ramadan is already on our doorsteps marking the passage of yet another fruitful year.  In many ways, it is a suitable time for us to reflect on our past year's activities which-to say the least-have brought us together from each corner of the U.S. for the sake of our beloved Egypt and its children.
We cannot but recognize how blessed we have been with the support and generosity of Egyptian Immigrants from all walks of life and of all ages: a world Renowned Egyptian-American Economist, Mr. Mohamed El Erian; an Egyptian American radiologist, Dr. Sherif Yacoub, and 8 year old Lobna who asks her friends to donate to 57357 instead of buying gifts for her birthday. They and thousands of others share their love for Egypt and their earnest desire to be of help to their native country. Words of gratitude are also in order for ECN's Board members, chapter leaders and volunteers, for their perception, passion, kindness and promptness in taking action. Thanks to their joined efforts, a number of fundraising events have been successfully initiated in Washington, L.A., New York, and Orlando and a list of accomplishments is added to ECN's record in support of cancer patients in Egypt.
In this respect, we were all deeply saddened by Ms. Fatma Abboud's passing in May. Ms. Abboud , served on ECN's advisory council and was also a chapter leader for one of our largest communities, the Tri-State area, (NY, NJ and CT).  She played a major role in attracting some of our largest donors to date. For several years, she passionately worked hard to support the mission of the Children's Cancer Hospital Egypt.  
It is thanks to such valuable support and your endless dedication that we have been able to realize a vast number of projects and developments throughout the past year and we look forward to accomplish more projects together hand in hand.
Without the firm belief of ECN's visionary supporters in the value and inevitability of 57357's future expansion, the choice of RTKL, the renowned global architectural firm carrying out 57357's future expansion design, would not have been possible. Today, the concept design of 57357's Health Sciences Campus is completed and with the help of our faithful and farsighted donors, the start of construction of two buildings on the Campus is expected to begin in Sept./Oct. 2015. The new campus includes an inpatient facility more than double in size of the actual one, a new outpatient facility to cater to an average of 1200 patients daily, a proton therapy equipment and building, a smart administrative  building, and a Health Sciences Training Academy. 57357's new capacity expansion project is restoring hope in cure for an additional 50% of annual pediatric cancer cases in Egypt. The start of the new campus construction project is expected to boost job opportunities and economic activity. 20000 workers of all levels in the field of construction and engineering will be working on site. 10000 healthcare professionals are expected to be working in the new in-patient and out-patient facilities, proton therapy and research units. Also, the Health Sciences training Academy is expected to train 4000 graduates on a yearly basis.   
ECN was also instrumental in covering travel costs for  Hospital 57357 staff to attend medical conferences and Cerner's health  IT annual meeting in the U.S, as well as funding the cost of media equipment  and travel expenses for two Foundation staff for a training course in Advertising in Dubai.
But the highlight of ECN's achievements during the past year was the launch of the Dana Farber Boston Children's (DFBC)/CCHE 57357 pediatric oncology fellowship last November. This is a highly customized joint fellowship training program with the goal of improving the level of care, survival rates, and outcomes for Egypt and the MENA region's pediatric cancer patients through the increase of expertise and number of pediatric oncologists in this part of the world that suffers from severe shortages in this specialization.  With the founding of this first international fellowship program for pediatric oncology, physicians can now receive the same kind of complex training and education in this specialization as their counterpart in the U.S.  They, in turn, would be teaching and training the next generation of professionals. ECN was instrumental in enabling three out of the first four admitted students to be enrolled on a scholarship basis.
Thanks to ECN's Supporters:  57357's new Blended E-Learning Program for the training of all staff categories at the Hospital, Foundation and AFNCI was launched on schedule. This will result in improved delivery of healthcare services, new possibilities for career enhancement, and the birth of a new generation of healthcare professionals positively impacting the industry as a whole.
 ECN's donors in the U.S. who carry the love of Egypt in their hearts, are aware that 57357 is not merely a charitable state of the art healthcare institution but an icon of change in various fields beyond the pediatric oncology specialization ; a platform from which the entire nation can leap towards the next century. They all realize the impact of supporting 57357's future expansion components-its advanced Research center, Health Sciences Training Academy, and introduction of the Proton therapy in radiology.   These components would not only improve care and outcomes for children with cancer but also for adult patients who would  be  benefiting from the most up to date technology in diagnosis and latest processes in healthcare delivery; all of which are necessary changes that would equip us to face the healthcare challenges of the 21st century .  To all of you, those who are already supporting ECN,  those who still wonder how you can help and those who believe in the inevitability of a global fight against cancer, this is the time to embark with us on  57357'  extraordinary journey  towards the realization of a cancer-free childhood
.