They met at 57357 where overcoming the disease and hope in healing gathered them. Despite difficult circumstances, Ahmed and Omneya decided to get married and continue their life together.
Ahmed, 24 years , shares with us: Omneya and I went through a tough experience. I had bone cancer and had five surgeries while she had brain tumor and had to go through chemotherapy for two years. Since I first met Omneya and knew her story I realized that their will be mutual understanding between us. Omneya, 20 years, to say: I prayed to God to meet someone who shares with me the same circumstances so we can support each other in the fight against the dreadful disease.
Omneya's story with illness started when she was 10 years old, when she used to get severe  headache attacks, cramps and blurred vision. X-rays showed the  presence of a brain tumor. In 57357, they realized that surgery could not be performed as the tumor was close to the vision nerve. The solution was to administer chemotherapy for two years."My condition was improving as the tumor was shrinking", said Omneya. Since then I am following up to make sure that the tumor is not growing. During the follow up visits I used to meet with other survivors  and we used to talk about our personal experiences. Ahmed was one of the follow up group. I knew that he had bone cancer, and was threatened with leg amputation. After 5 fine successful surgeries his leg was saved , she added.
From the first meeting I felt that she  was close to my heart and decided to propose to her, said Ahmed. Our families were very supportive, and we married and she got pregnant. I was worried about her and our child, but she continued her follow up in Hospital 57357 until our son Zain was born. With a big smile Ahmed continued saying: although  my condition is complicated and there is a possibility of recurrence, I feel optimistic and hopeful that my wife and my son will be of great support to me in the face of my illness.
Omneya ends: I am still getting headaches occasionally but being happy with my family encourages me to fight the illness. I am getting ready for my follow up appointment on January 28th in 57357 to have an MRI to find the reason behind the headaches. I have faith that God will support me and my small family and that Zain will be my bearer of good tidings.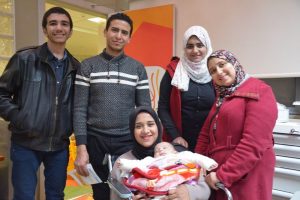 .