Today was a beautiful day in Nadeen Usama's life as well as it was for her family, father, mother, brothers and sister and for her school friends too. As such, her mother was keen to record her joy as she was going back to school after recovering from cancer.
Nadeen Usama from Alexandria, is a student in fourth grade in Shereen Language School and one of Hospital 57357's heroes. Last June she got a tumor in her arm and she went to 57357 in Cairo. Their, she started her treatment protocol immediately where the tumor was removed and she received 10 chemotherapy doses. Nadeen recovered and returned back to her school after 9 months, and after complete investigations, her tests showed that she had recovered and was now in the follow up stage. During her treatment journey, the school administration, teachers and her colleagues used to call her to provide support and encouragement. On the first day she resumed going to school, her colleagues celebrated her return after beating the illness.
Nadeen was back to school and also back to playing, smiling and laughing. Thanks be to God and to Hospital 57357, she was back to her normal life. Our congratulations for Nadeen and our wishes of recovery to every sick child.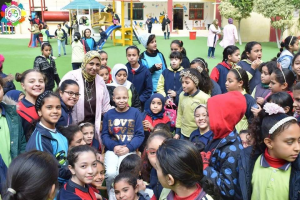 .