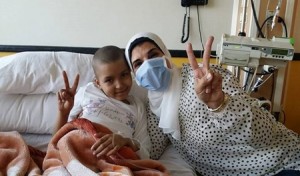 Translation of article by Nashwa Al Hofy in al Watan News
How awful it is to feel disabled and useless next to a suffering person, being only capable of  silently crying, fervently praying, or helplessly sighing in expression of your failure in alleviating his pain. This is exactly what I went through during the time I spent next to the 8 year old Libyan girl Alaa, an in-patient at 57357 whom I was trying to comfort during one of my multiple visits to the Hospital. This was my first encounter with Alaa: the girl with a radiant face and typical Arab features, tucked in her bed, sometimes silently taking in the pain and the treatment and in other instances rebellious against her fate. Why is this happening to her? How long will it last? Having lost her hair hurts her deeply: she shows me a picture of her before the sickness at a family wedding. I look at the picture and watch her as she is speaking to me, wondering what to tell her. I offer her a children's story by the writer Abeer Anwar. This is the story of a girl who went through the same experience as Alaa's. The story is titled "Tomorrow, I will have hair". I sit beside her to read to her the story. Silently she watches the book drawings as I turn the pages. As we come to the end of the story, Alaa is smiling and reveals to me that she prefers to move around without covering her head or wearing a wig. I tell her about the numerous actors who seek to be bold because it is trendy. She laughs candidly and we depart on a happy note. But soon enough, her mother informs me about her depressed condition and her refusal to take the medicine to the extent that her treating physician had to administer an anti-depressant. I go to tell her that unless she starts taking her medicine, I will no more come to visit her. She smiles back to me and tries to pretend innocently that all is well. I wonder why outside the walls of her room, people are still snapping at the world, why are not they living with joy and contentment and respect to each other?
I am swinging between despair for not being able to help Alaa and revulsion from the behavior of a certain group of people outside 57357's walls  who have chosen conflict as their motto. But, hope slowly and strangely starts to overpower you when you happen to be inside Hospital 57357. As you walk along the Hospital corridors, whatever feelings of despair or disgust you might have accumulated, start to fade away: Here you are in a place that provides treatment for free for Egyptian, Arab, and African children. At 57357, you are offered the best quality service in terms of latest equipment and technology, sanitation, medication, follow-up, management expertise, and prevalence of the culture of love, generous giving, devotion and reward and punishment.  In this healthcare Institution, they have recently recorded an average cure rate of 74.7% which brings them closer to the world rates of 80-85% and establishes them among the leading pediatric oncology centers worldwide. Their expansion dreams are not over with the recent addition of 60 new in-patient beds within the Hospital and the opening of their 52 bed branch in Tanta in the heart of the Delta region. Moreover, news come your way that they have partnered with the top U.S. universities to offer Egyptian physicians a $70000 scholarship for a 24 months fellowship training program in Egypt and 6 months in the U.S. The joint program is to breed a new generation of physicians capable of contributing to the progress of pediatric oncology treatment and care. Also, this program is one of many to follow which will be offered in a variety of healthcare-related fields under the umbrella of a Health Sciences training academy. Thanks to our support and donations for this up-coming project, this tuition-based academy will be offering its services to all professionals in Egypt and the surrounding Region who would be capable of ushering in a new era in healthcare for this part of the world.
.