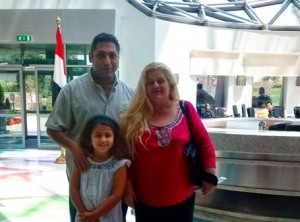 Mrs. Maxine Shaw is from England and has been living and working in Sharm el Sheikh for 17 years, as she is fond of Egypt . She now considers herself to be an Egyptian as she is doing many charitable works in many areas for her adopted country .
Moved by the loss of her sister due to cancer , this time, with her Egyptian husband and daughter, she was eager to offer a helping hand to the hospital, which was built by countless Egyptians from many different walks of life to save children from cancer, providing them with  free quality health care and strong hopes for cure .
Touring the Hospital,  she was reassured by the knowledge that this hospital is continually improving its cure rates, which had now grown to 72%. With tears filling her eyes, because of remembrance of the death of her sister from cancer, she bravely toured the hospital.
With a heart full of compassion she asked, " what kinds of medicine does the hospital lack? " … Then she said goodbye and left with her family.  After only one hour she unexpectedly came back with a large amount of the required medicines . Moreover, she pledged to promote 57357 through her work in the field of tourism, so people of different nationalities visiting Egypt, can know about 57357 and support its current expansion capacity projects, so that no sick child seeking its quality care is turned away because of the currently overstretched capacity.
A sincere "thank you", to all our donors , irrespective of your nationality or religious belief. All that matters is being a human with a generous heart, which always just wants to give.
.