"57357/ Dana Farber Boston Children's Cancer & Blood disorders Center (DFBC) pediatric oncology fellowship program is running well on track"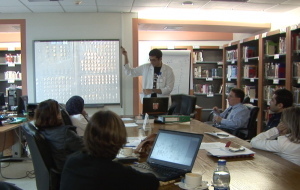 "The 57357/DFBC joint pediatric oncology fellowship program is running well on track," reveals to me Dr. Mark Kieran on the last day (March 6, 2015) of his recent visit to 57357. As director of Pediatric Neuro–Oncology, Harvard University, Dana- Farber Cancer Institute and Children's Hospital Boston,  Dr. Mark Kieran has played a major role in the establishment of the joint fellowship program. He is now confident it will ultimately realize its goal: to breed a new generation of healthcare professionals who will raise the standard of healthcare delivery and be change agents in their communities.
This is Dr. Kieran's second visit since the launch of the program in November 2014. Earlier in December, along with the team of physicians from DFBC, he came to assess its functioning one month after its launch. Back then, a misunderstanding about the role of a fellow versus the one of any other resident seemed to hinder adherents to the program from benefiting to the maximum from it. Fellows were still submerged with residency routine work rather than fulfilling their major duties as fellows: taking decisions and solving issues, fully understanding the reasons behind standard practices and protocols, and developing a critical mind with respect to the knowledge and practices they received.
This time, while residency routine work is being assigned to other residents, fellows were enabled to assume fully their responsibilities as such. Fellows were also asked periodically to give presentations about their assigned literature and take exams which will reflect how much knowledge they had absorbed. Dr. Kieran is grateful to Dr. Manal Zamzam, 57357's medical director and coordinator of the program for her efforts in assuming the smooth functioning of the program. Not only could he meet with more relaxed fellows this time,  but also with more comfortable teachers. 57357 Practitioners are more at ease with the new program and they are given specific learning objectives which concur with the purpose of the teaching.
The first four students who are fortunate to be enrolled on a scholarship basis are basically trained at 57357 but get to spend 6 weeks at the end of the first and second year at DFBC, Boston, MA, USA. The program committee is made up of physicians from Dana-Farber and CCHE 57357 and course content uses the American Academy of Pediatrics Oncology curriculum and the blended learning approach. The DFBC team meets every week with the 57357 administrators of the program and bi-weekly with the fellows in Cairo through video-conferencing.
Upon completion of the fellowship, fellows will receive a certificate from 57357 and DFBC. With the institution of the first international fellowship program for pediatric oncology, physicians from this region will receive the same kind of complex training and education as their counterpart in one of the most reputable cancer centers in the U.S.  They, in turn, would be training the next generation of professionals in Egypt and the surrounding region, positively impacting patients' outcomes in this part of the world. Through this highly customized program, fellows are trained to engage in improving the performance of their own health systems, adapting knowledge to specific contexts, while integrating global findings in an increasingly interdependent world.
The plan is to have a selection round of 4 new students every six months. Candidates are screened rigorously with respect to their qualifications, personality, and eagerness to be change agents. The fellowship program is offered against payment with potential scholarship availability which is to be decided on a case by case basis.
It is noteworthy that the goal of the joint fellowship program is to help improve the level of care, survival rates, and outcomes for Egypt and the MENA region's children with cancer through increasing the expertise and number of pediatric oncologists in this part of the world which presently suffers from a severe shortage in this specialization. The fellowship program is a novel collaborative project for setting up a CCHE Foundation Academy 57357-based post-doctoral training. This is a milestone on the road to establishing the 57357 Health Sciences Training Academy, a major component of 57357's future expansion projects. The Academy will be available for Egypt and the surrounding region to breed a new generation of healthcare professionals who will raise the standard of healthcare delivery and be change agents in their own communities. An added source of revenue for 57357, the academy will offer training in health sciences fields such as nursing, IT, healthcare management, research…..etc
.