Egypt Cancer Network in North America ECN has always been visionary in supporting education and training initiatives that would reinforce the "learning and sharing" culture within the 57357 Institution, and on a nationwide scale contribute to the development of a new generation of Egyptian healthcare professionals capable of operating change in the oncology and healthcare fields
ECN is committed to sponsoring the 57357/ Dana Farber Boston Children's fellowship training program: travel and stay of U.S teaching experts and physicians to Cairo, travel , stay, and projects of fellows to complete their part of the training in the U.S.
This 30 month program which  presently accounts for 6 cohorts is designed to teach its fellows the essentials of patient care, performing research in oncology through collaboration with faculty members and mentors while also strengthening the relationship between the American and Egyptian pediatric oncology communities. Through this highly customized program, fellows are trained to engage in improving the performance of their own health systems, adapting knowledge to specific contexts, while integrating global findings in an increasingly interdependent world.
On another front, ECN is supporting 57357's goal of positively changing Pharmacy Education in Egypt through developing new training programs to form highly specialized clinical Pharmacists to participate more effectively and efficiently in managing their patients, increasing their expertise in patient -centered and outcome -oriented care.
As such,  ECN is fully  sponsoring the joint 57357/ University of Colorado, Skaggs School of Pharmacy 2 year Pharm D program in Egypt. One cohort of 6 trainees has already graduated and the second one is starting in the second half of 2020. the training consists of:
One year and half online didactic course with live didactic activities in 57357
Experiential training  throughout the two years under supervision of 57357 preceptors
It is noteworthy that ECN has sponsored the visit and accreditation expenses of  the American Society of Health-System Pharmacists, ASHP enabling Hospital 57357 to offer the International Pharmacy Practice Resident, IPPR training program.57357 is the first Hospital in Africa to  receive ASHP accreditation for the IPPR program.
The IPPR program is a one-year professional training residency program designed to train and develop advanced skills in pharmacy practice, training and education while increasing the resident's knowledge base through direct exposure. Together with the Pharm D program, they are offered by 57357 because they are considered important milestones on the pharmacist's career path.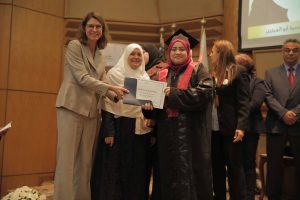 .