For the 9th year ECN's California chapter held its annual event in attendance of a big group of expatriate Egyptians along with Dr. Nabila Makram, Egypt's Minister for Immigration and Ambassador Ahmed Shahin, General Consul of Egypt in LA. The event was emceed  by Dr. Hesham Alseify, president of ECN and associate clinical professor at David Geffen UCLA School of Medicine. Dr. Alseify started by welcoming the guests and honoring ECN's volunteers specially the young ones who belong to a generation that was born and living in the USA but still committed to support their mother land. He expressed gratitude to Dr. Mohammed Al-Erian, who has been a strong  supporter to ECN since its inception. He couldn't attend the event meanwhile he sent a donation check for 50 thousand dollars.
Dr. Alseify praised the unique role that Hospital 57357 plays in treating children with cancer in Egypt and the surrounding region.  The 57357 institution is relying on research to fine-tune treatment protocols to be more suited to their patients whose genes are different than those of North Americans and of Europeans. Soon enough, Hospital 57357 realized that it is only through research that they could   improve the outcomes and cure rates of their patients.
Dr. Alseify was also keen to share with the audience some meaningful data concerning Hospital 57357's operation and performance: "57357 started with 179 beds in 2007, presently they increased to 320 beds  while St. Jude hospital the model institution 57357 set out to replicate is only 78 beds. In 2018 57357 had 15,000 patients under treatment, 3000 new patients were admitted, 43.000 surgery were done two million and a half chemotherapy sessions were administered, 177,000 out-patient visits and 20,000 visits in the ER were received, 18,000 physiotherapy sessions, 78,000 radiology, 111 bone marrow transplantation were carried out, this tremendous quantity of work is what your donations did over the last 10 years"
To show the difference that ECN made, Dr. Alseify talked about the different activities it has supported:
– The expansion of Hospital 57357 as the new outpatient building is currently 60% complete where ECN funded a part of constructions and the design phase. The new   facility will include 300 chairs where patients come to receive chemotherapy and leave. It will also include more space for vital services such as radiotherapy, radiology
In Education: Four fellowship programs in pediatric oncology including different sub specialties, a collaborative training program between 57357 Dana Farber Boston Children's , it is provided not only for Egyptians but for physicians from Africa and the Middle East.
The clinical pharmacy residency program that 57357 is leading in, in the Middle East accredited by ASHP not only enabling Egyptian pharmacists to enhance their education level but also becoming an accredited center for this program to receive trainees from the U.S.
The Joint commission International, JCI healthcare quality management and patient safety certification program is not just given to 57357 staff, but but also offered to other hospitals and healthcare institutions
The online Harvard courses for immunology and genetics on 57357's learning management system available also to other medical schools of Alkasr Al-Einy, Ain Shams and the Armed forces medical school military.
The infection control and pharmaco-genetic programs, the practicing clinical research, and more, all of these were supported by ECN.
Dr. Sherif Yaqoub, radiation oncologist in DC, exposed the need of cancer patients in Egypt for support. "Cancer kills 7 million people around the world every year, two thirds of them in the poor countries, 50% of patients will require radiotherapy during their lifetime, and it is hard to find the most up to date and quality radiotherapy service." he revealed. "This is why we should provide help as in ECN we believe that basic cancer treatment should be accessible to everyone," he added.
At the end of the event, Minister Makram was offered a token of appreciation for her efforts in linking expatriate Egyptians to their mother land. Mrs. Rehab Alseify and Mrs Layla Prins presented the different donation programs such as naming opportunity, monthly donation and sponsoring a child's treatment. An auction was held to collect donations to sponsor children's chemotherapy.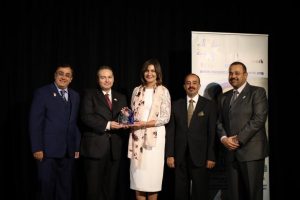 .