Beit El Eila pays a special visit to 57357.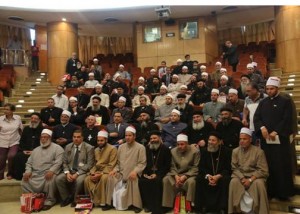 Under the patronage of El Azhar Sheikh, and The Coptic Orthodox PopeTawadros, more than 60 Christian and Muslim religious leaders, members of Beit El Eila (the Family Home) visited for the first time 57357's children with cancer on Sept. 2, 2014.
The large group gathered first at the auditorium where they were welcomed by the Hospital GM for Research, strategy and Outreach. Coordinated by Mr. Selim Fouad Wasef, a representative of the Episcopal Church, the visit was an expression of the enthusiasm, compassion, interest, concern and generosity of the delegation for the 57357 endeavor. After the GM's presentation, the amazed and enthusiastic delegation debated such important issues as succession, environmental protection and cancer prevention, sustainability and the duplication of the 57357 model nationwide. The group members spent quality time with the children for which they had prepared with great love bags full of gifts.
 "Egypt is in need of professionals such as those who set up and are operating this remarkable accomplishment," said Sheikh Mahmoud Moussa stressing the importance of research and knowledge pursuit and application for Egypt's progress and development. He also praised the Hospital for continuously training and enhancing the skills of its employees. He affirmed the on-going support of Beit-El-Eila to 57357.
As for father Botros Bostros, the Pope's representative, he was apologetic for having been late to come and visit the Hospital. He congratulated the staff and administration for the success of the endeavor. Urging people to be compassionate to the most distressed, he quoted from the Bible and the Koran, verses pointing to God's abounding mercy and his instructions to believers to be merciful to each other. "When we donate to charitable institutions such as 57357, we are following God's teachings and we are receiving infinite blessings of peace and mercy." said Father Botros.
"I bow down with great respect before the 57357 accomplishment" exclaims Mr. Selim Fouad Wassef, the visit coordinator. Inviting everyone to support the Hospital on its expansion and development journey, he quoted from the Bible, the verse that states that God, who initiates a good work among his people, will certainly stand by them for its completion.
At the end of the visit, the religious delegation presented the Hospital with a generous donation offered by the members spontaneously without prior arrangement.
.