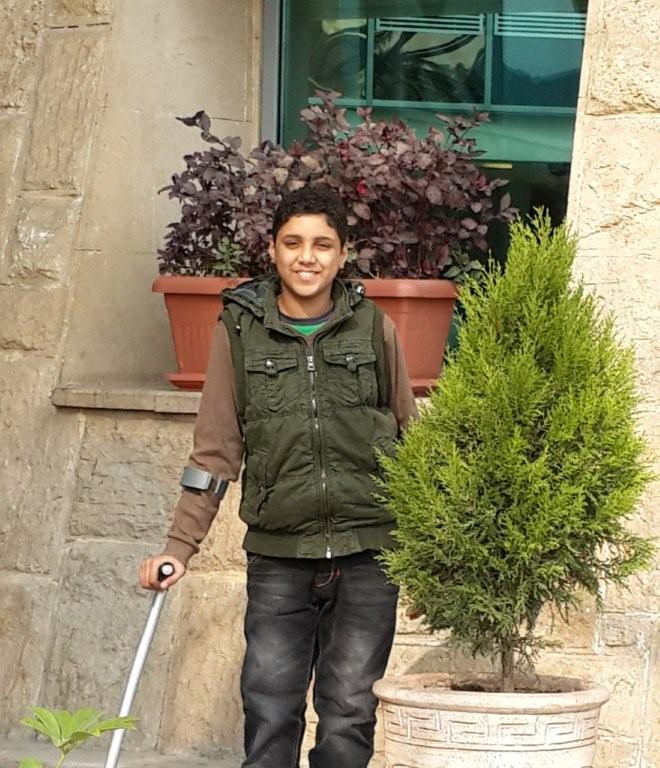 "I was only 11 years old when I first came to 57357 and much too young to understand how distressing this disease is.  However, there have also been some fun times, as I went through my treatment with the help of my physicians, and the friendly nurses and volunteers", said Mohamed Ashraf, a 13 year old patient, who inspires you with his optimism and cheerfulness.
"My son's leg has been saved from amputation after a successful surgery to remove a tumor located on his right thigh bone and the replacement of the diseased bone with an artificial one.  I am thankful and grateful  to 57357's dedicated staff for their free, compassionate, and exceptional care to my son", said Mohamed's mom.
Hospital 57357 is also committed to cater to Mohamed's future surgeries for elongating the manufactured thigh bone as he grows up.
When Mohamed was admitted to 57357 in October 2011,  he first underwent a comprehensive examination, which indicated that he was also suffering from lung metastasis. He therefore received chemotherapy to save both his leg and his lungs. He needs further surgery to remove the remaining lung metastasis
However, due to the hospital's overstretched capacity, Mohamed is now on the waiting list to have his surgery, just as there are hundreds of other children with cancer on the waiting list to get 57357's free, quality care.
Therefore, 57357 is striving to bring its expansion projects to reality.  To date, it has acquired sufficient land just next to its premises to build a 350-bed annex. With the support of 57357's affiliate in the U.S., Egypt Cancer Network, the hospital was recently able to sign a contract with the renowned global architecture firm, RTKL, to design the 350-bed annex, health sciences academy, research institute and radiology center.
57357 still needs Egyptian and Arab expatriates to continue their support through Egypt Cancer Network to complete these projects and equip them.
As you read Mohamed's story, don't forget to pray for his cure and academic success, as he will be soon sitting for his exams at 57357's in-house school.
.