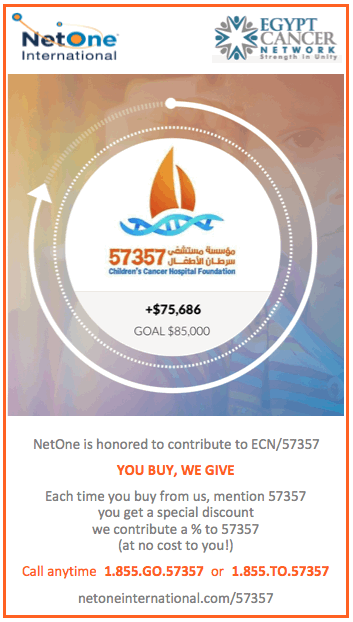 NetOne International is close to fulfilling its pledge of $85,000 to ECN Egypt Cancer Network, announced Dr. Akram Safadi, CEO. NetOne International is an ethnic telemarketing company that provides mobile, international calling services, TV, vacation, and other services to the U.S., Canada and Australia customers. NetOne began their partnership with ECN in the summer of 2012 and pledged to donate $85,000 over the course of 3 years. To date, over $75,000 has already been donated and it is anticipated that the pledge will be completed before the end of the year.
NetOne belongs to a multi-business group that started in Orlando 27 years ago and pioneered the notion of "contributing without donating", through affinity telemarketing programs with AT&T, Bell Atlantic, GTE, Verizon, and First USA that gave back to the community a portion of their monthly billing. The main idea behind this initiative at its conception was to provide aid to schools that were dependent on donations so that they could utilize the purchase power of their communities to fund the schools without the solicitation of donations. Under this principle, NetOne's parent group became the premier agent of AT&T when it came to selling to ethnic markets. This effort generated more than $100 million in annual sales resulting in millions of dollars of contributions to schools and charities throughout the United States.
NetOne's customer service centers are based in Egypt where they have operated now for over a decade. During a visit to the service center, Dr. Safadi and Mr. Baher Tabana, President of NetOne Egypt, had the opportunity to go and visit the 57357 Children's Hospital after having heard so much about the hospital through TV ads and social media. After the tour Dr. Safadi stated, "it was not only the medical aspect of the hospital which is outstanding, but also the humanitarian aspect. CCHE is a great humanitarian institute with outstanding medical care for people from all walks of life, we were wow-ed!"
Dr. Safadi's visit inspired him to seek out opportunities to help the "Great Institute" of CCHE/57357 in any way that he could, at personal as well as business levels. Since that time, NetOne has donated 0.5% of its sales to ECN, and additionally they are helping raise awareness to the hospital and its services.
You too can be a part of the "Contributing without Donating" campaign by choosing NetOne for your international calling or Arab TV needs, a percentage of your purchase will go to ECN/57357 at no cost to you. Check it out at netoneinternational.com/57357.
Act now; simply call any of these toll free numbers: 1-855-GO-57357 or 1-855-TO-57357.
.