At a young age, leukemia has messed up the life of our innocent hero Nour; nevertheless, she was fortunate to be admitted in Hospital 57357 to be provided with free quality compassionate care that would alleviate her suffering, enabling her to overcome that fearful disease.
Nour has been diagnosed with acute lymphoblastic leukemia, a type of blood cancer.
"It was hard to realize that at the age of eight, my daughter had to face a fearful disease alone", said Nour's mother.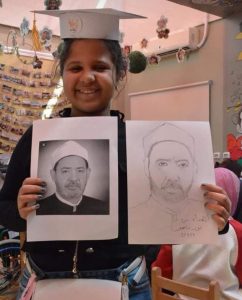 At the cheerful and colorful waiting area of the outpatient clinics, fate and coincidence have brought Nour & Khadija, another 57357 patient, together to become friends and to strengthen each other so that they could overcome their illness throughout their challenging treatment journey. "I have felt comfortable in knowing that we were not alone in the fight", Nour explained, revealing that  they both used to match their chemotherapy sessions dates.
"Together they have been through tough times and have endured the pain", shares Dr. Asmaa M. Hammouda, the primary doctor of the two patients, explaining that the friendly atmosphere of the hospital and the art therapy space have helped the two girls to endure the pain through cheerful drawing sessions and the friendly and compassionate attitude of  the caregivers and the administrative team.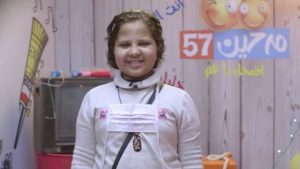 "My drawing skills have greatly developed at the art therapy workshop thanks to their volunteering team. There, we used to enjoy a good music genre that helps relieve anxiety associated with the cancer treatment," explains Nour
After nearly four years of battling lymphoblastic leukemia at Hospital 57357 where Nour and her friend Khadija have been provided with all means of medical & psychological support, they both have won their battle against cancer by reaching the follow-up stage.
.