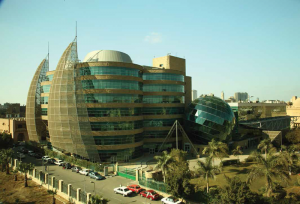 CCHE 57357 takes pride in being a change agent and an agile, responsive, and learning organization in constant quest for excellence. For every new challenge, we stop to analyze situations and draw insights and conclusions. In the process, we are redefining our strategic choices and our vision, aligning our course of action to meet the requirements of the new definition. The biggest challenge ahead is the fact that we are turning down children with cancer because of overloaded capacity. It will remain as such until we complete our expansion projects
In 2013, the 57357 Institution Boards of Trustees and Directors have undertaken major restructuring to meet the Institution's increased scope of services and activities for the new expansion projects. The present boards are formed of groups of highly committed diverse eminent professionals representing medicine, education, finance, marketing, and business. It is noteworthy that the mandate of the new boards is twofold. On one hand, to realize the expansion of 57357 from a pediatric oncology healthcare center to a Health Sciences Complex including a Research Institute, a Health Sciences Training Academy, a 350 bed in patient Tower, and a Hospice Care facility. On the other hand, the 57357 Institution is committed to taking a preponderant role in cancer awareness and prevention.
In light of the above strategic choices, board members of our 3 restructured affiliates (CCHE 57357, CCHF, AFNCI) were engaged in revisiting the vision and mission we are set out to accomplish. In doing so, they are in no way modifying the core of the mission we pledge to fulfill which is to provide quality care and cure to all children with cancer for free without any discrimination. Instead, we are shifting the emphasis on the strategic choices of the moment while choosing to raise the standards against which we evaluate our performance. As such, the new vision and mission of the CCHF reads as follows:
Vision: to be an international Icon of change towards a cancer-free childhood
(Notice how we shifted the emphasis to being recognized as an icon of change and how we raised the standard to the international level)
Mission: Building a sustainable foundation to prevent and combat cancer through evidence-based research, smart education and free quality healthcare provided with passion and justice to alleviate the suffering of children with cancer and their families
(Notice how we shifted the emphasis on research to be the first pillar for the success of our mission, and how we labeled education as being smart in echo with the directives of our restructured "Learning andDevelopment" training department.  Finally, notice also that the core of our mission or our raison d'etre remains unchanged which is the provision of  quality healthcare with passion and justice to alleviate the suffering of children with cancer and their families free of charge
.