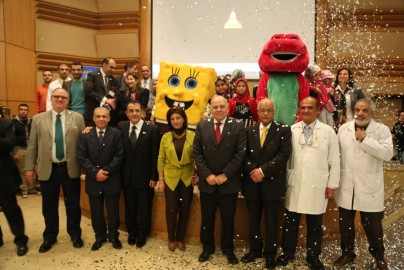 57357's new staff learning and development program was launched on January 20, 2014. Some 2000 workers and healthcare professionals of three 57357 affiliated institutions will be receiving blended and targeted training through this program; resulting in improved delivery of healthcare services, new possibilities for career enhancement, and the birth of a new generation of healthcare professionals  positively impacting this industry as a whole. "Blended training", is a form of knowledge acquisition which is carried out through E-learning and workshops led by facilitators.
On that day, 57357 Hospital,  Foundation, and AFNCI's top management and staff were gathered early morning at the Hospital Auditorium to celebrate the launch of the program  in the presence of its initiator, Dr Mohamed Fahmi ,57357's board  member and Chairman & CEO of Tatweer, a "Learning Technologies and innovative learning solutions" firm.
"It is a great honor and privilege for ECN to be sharing in the support of this program" said Dr. Hesham El Seify, ECN Board Chairman over the phone from the U.S.  "We look forward to helping Hospital 57357 to develop from a healthcare center into a world leading competitive Health and Sciences Campus."Also present were Dr Amr Ezzat Salama , VP of the 57357 foundation board of trustees and former Minister of Higher Education and Dr. Michael Orey, Associate Professor at the University of Georgia, Department of Instructional Technology who is an authority on blended learning.
Motivating the audience to positively engage in the new program, Dr. Sherif Abou el Naga, VP of Hospital 57357 and program coordinator,  amused the audience with  scenes from an old 1958 Egyptian film Share'el Hob "the Love street" starring late beloved Egyptian Singer Abdel Halim Hafez and comedian Abdel Salam el Naboulsi. The scenes emphasize the already prevailing awareness that personal talent alone does not guarantee success; it must be coupled with learning and training.
"The Hospital Staff is 57357's real treasure; that is why we are continuously pursuing to develop and enhance its capabilities through learning and training." said Dr. Hani Hussein, Hospital 57357's CEO, who is firm supporter of the training program
" In its quest for knowledge and research, this institution is positioning itself as a world leader in its field and an example for others to follow "said Dr. Ezzat Salama. "I am privileged to be part of the 57357 team and to be contributing to this great endeavor", he added.
" For as long as 20 years  after college graduation, I was still involved in acquiring knowledge. But my life was completely changed with my first encounter with 57357; I realized ,then, that knowledge is worthless if it is not put into action." shared Dr Fahmi, head of the training committee within 57357's Board and the initiator of the program  .  "57357 is truly a success-achieving institution." he added.  Explaining to the audience the benefits of blended training, Dr. Fahmi observed:"This training method allows us to offer at any point in time a large variety of courses at a much lesser cost and with lesser restrictions. It also enables us to better monitor and evaluate the staff's learning process."
Finally, a comprehensive presentation on the benefits of blended learning was given by Dr Orey.
.