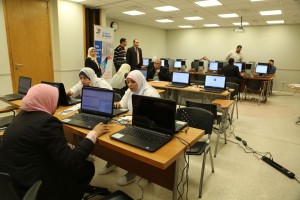 57357's new staff learning and development program was launched on January 20, 2014. Through this program, some 2000 workers and healthcare professionals of three 57357 affiliated institutions CCHE, CCHF, and AFNCI will be receiving benchmark practical academic knowledge via the blended and targeted training approach. This will result in improved delivery of healthcare services, new possibilities for career enhancement, and the birth of a new generation of healthcare professionals positively impacting this industry as a whole. "Blended training", is a form of knowledge acquisition which is carried out through E-learning and workshops led by facilitators.
A new Learning Management System (LMS) has been implemented to ensure ease of use and accessibility to hundreds of E-learning courses. The new LMS has been installed with a public IP so employees can access training from outside work.
Training needs assessment has been carried out for the three affiliates' employees to include core competencies courses (3) to be taken by all staff, 2 managerial courses for staff at the managerial level, and 3 functional courses specific to each and every department. Competencies were mapped to courses. All core and managerial courses have been uploaded on the LMS. Functional courses have yet to be uploaded according to department needs. All core competencies courses have to be completed by May 30, 2014. All managerial courses are set to start on Nov.1, 2014 and functional courses to start on July 1, 2014.
A first phase pilot group of 186 employees were successfully logged in to their core competencies courses on March 4, 2014 and took their examinations in April. All exams are accredited by the University of Georgia. The rest of the staff were divided into 4 groups and were logged in over the period from March 20 to April 10.
Previously, on the occasion of the launch of the program last January, Dr.Hesham El Seify, ECN Board chairman had affirmed ECN's full support to it "It is a great honor and privilege for ECN to be sharing in the support of this program..  We look forward to helping Hospital 57357 to develop from a healthcare center into a world leading competitive Health and Sciences Campus."
.