Start of  Construction of the new complex, expected in 2014, is to boost job opportunities and economic activity.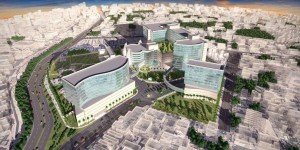 On the third week of May 18-21, 2014, a delegation from RTKL, the global architecture firm carrying out the design of 57357's expansion, was again at the Hospital premises for another fine tuning of information and data before coming up with the final  design specificities of Hospital 57357's expansion complex.The new complex made of several buildings will , beside the actual premises, house a 300- 350 bed in-patient tower, a health sciences training Academy, a research institute, and a new kind of radio therapy in Egypt much less invasive than the traditional one, the proton therapy. Carrying out this huge expansion will , besides enabling the provision of quality cancer care to an increased number of cancer patients, result in a stimulus injection to economic activity and job opportunity creation in Egypt. The new complex will first and foremost allow the hospital to cater to an additional 50% of  annual pediatric cancer patients over and above the present 25% it is able to accommodate. Also, for its construction, the expansion complex will potentially employ 15000workers of various levels of expertise in all fields of construction and engineering. Moreover, 3000 healthcare professionals of all levels and fields will be working at the new extension, proton therapy, and research institute units. As for the Training Academy, it will be accrediting around 4000 graduates annually.
" We have now a rough idea about the concept design" reveals Eng. Hisham Dinana, VP of Solving EFESO Egypt, who acts as  the project manager. Dinana added that it is not implausible that starting on the foundations of the in-patient 300 bed tower would take place in 2014 and that the construction of the entire tower would be completed 4 years later. " we are on schedule and we are making good progress" he explained, RTKL having  finalized during a preceding visit the "space program" for the design. In other words, the architectural firm delegation has assessed with each and every hospital department what their needs, expectations and requirements are in terms of space and energy requirements with respect to the future expansion.
Moreover, an expert from Solving EFESO collected relevant data about secured.onlinegambling2014.com the climate conditions at the expansion site: sun, wind, air quality, temperature beneath the surface. All of this would be instrumental in selecting the right mix for energy generation and conservation. "One ingredient of the mix will most definitely be solar energy", reveals Dinana."As for other ingredients of the mix, other sources such as natural gas, or methane are also under consideration," he added.
Previously, thanks to Egypt Cancer Network's firm belief in the worthiness and inevitability of this important expansion, the U.S. based non-profit network initially agreed to fund the architectural design of 57357's new Health and Sciences Complex. Presently, because of the increase in demand for its free quality services resulting in overstretched capacity, the Hospital is turning away 5 out of 7 patients that daily knock at its doors.
.