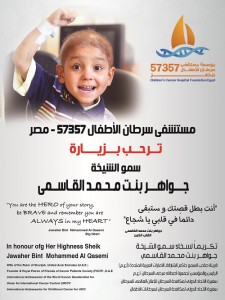 57357 receives an updated (PACS) medical imaging technology
Hospital 57357 was blessed to receive the generous amount of Emirati dirham 5 millions from Her Highness Sheikha Jawaher Bint Mohammed Al Qasimi to update its (PACS) picture archiving and communication system. PACS is a medical imaging technology which provides economical storage of and convenient access to radiology images from multiple modalities. Radiology images through the new system are one click away, enabling timely, efficient, and remote access of physicians to the images; which is particularly useful in emergencies and in telemedicine.
The new system will also enable the Hospital to store and archive its radiology images in a digital secure manner; saving costs of storage, and printing.  Through this system and its full integration within the Hospital's Informatics system, 57357 become fully digital, filmless and paperless. It is noteworthy that   a PACS consists of four major components: the various types of imaging equipment such as X-ray plain film (PF), computed tomography (CT) and magnetic resonance imaging (MRI), a safe network for the transmission of patient information, workstations for interpreting and reviewing images, and archives for the retrieval and storage of images and reports.
Sheikha Jawaher is the founder and Royal patron of the Friends of Cancer Patients Society (FOCP).
.