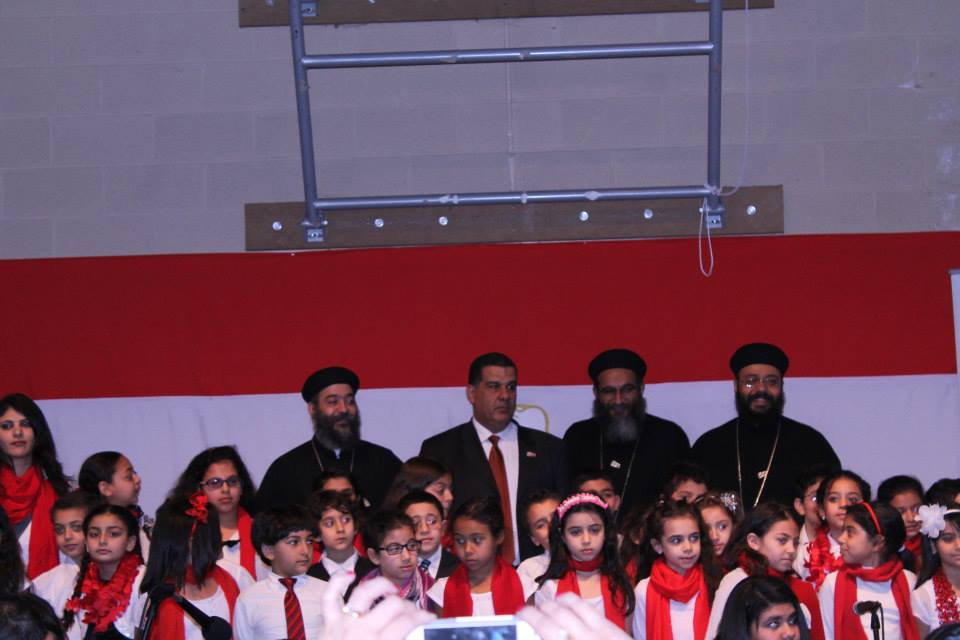 A group of Egyptian American radiology Experts headed by Dr Sherif Yacoub, donate their efforts for the setting up of 57357's future proton therapy
On March 30, under the auspices of His Holiness Pope Twadros II, the Egyptian Americans community in Fairfax, Virginia held a luncheon to support Egypt Cancer Network 57357.
Held in St. Mark's Church in Fairfax, the sold out event was a testimony to  this community's fervent desire to give back to their mother country, Egypt, through the support  of Hospital 57357's children with cancer.  The Luncheon was coordinated by  Father Bishoi Andros, leader of the Coptic community in the area and Father Bolous, Pope Tawadros II's special envoy who  has a lasting relationship with and strong dedication to 57357.  The event was attended by His Excellency Mohamed Tawfik, the Ambassador of Egypt to the United States, as well as General Consul, Mr. Hani Nagi and a crowd  of distinguished members of Virginia's Coptic community.   Ambassador Tawfik  gave a moving speech in which he affirmed his faith in a brighter future for Egypt, invited people to remember the less fortunate, and praised ECN 57357's action of supporting cancer patients in Egypt.
Highlights of the event were Radiation Oncology Expert, Dr. Sherif Yacoub's speech and  Hospital 57357's VP,Dr. Sherif Abou EL naga's presentation. Dr. Yacoub praised Hospital 57357's action and achievements in a relatively short period and pledged his and a group of colleagues' participation in its future expansion plans through donating time and effort for the setting up of its future proton therapy unit.
As for Dr. Abou El Naga's presentation, he focused on the history of the hospital and its future expansion projects. As he raised awareness about 57357 in the room for the first time within this community, the prevailing atmosphere among the audience was one of awe and encouragement.  Abouelnaga talked about a new 300 bed in-patient tower  to increase Hospital 57357's present capacity, as  every 4 out of 5 children with cancer are denied access to 57357's free quality care because of increased demand . He also talked about the Health Science Academy and training of all staff categories including doctors, nurses to be always up to the latest standards of patient care. Words of gratitude and appreciation are in order to all initiators, organizers and attendees of this special event which brought Egypt closer to  so many Egyptian Americans who carry our beloved Homeland in their hearts and who are always willing to be at its service. At the end many people presented their donations. However, the most heartwarming part was when the children came up to Dr. Abouelnaga and donated their own allowance for the week.
.