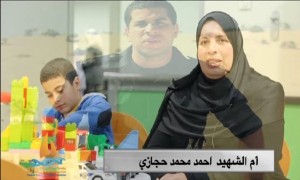 Meeting with the mother of our hero martyr Ahmed Hegazy at 57357
"Donate to 57357", used to say the martyr to his mother, "with 57357, we know exactly where the money is going and we trust them"
I met her at 57357 and she told me how she came to be informed of her son's last wishes as he was killed in action:
"When Ahmed was ordered to serve in Sinai, he wrote his will and asked that it would be revealed only upon his death. In his will, he asked that a third of his inheritance would be donated to 57357 as an on-going Sadaka" said Hegazy's mother. She adds that since her son's visit to 57357 in 2008 with his military academy colleagues, he always advised her to donate her money zakat to the Hospital. He explained his preference for 57357 as the recipient of their donations because of its trustworthiness, transparency,  and palpable achievements.
"After his passing, and as 57357 was opening a new branch in Tanta, I opted to donate an on-going Sadaka in his name to this branch. This way, I thought, I would be supporting the modest people in Tanta and its neighborhoods", said the mother. "The donation covered the value of a play room for the children in the new Tanta branch, reveals Hegazy's Mother. My greatest joy was when I saw my son's name on a plaque on that playroom; in fulfillment of his last wish. My wish is to see more 57357 branches in Egypt's provinces, added the mother.
.