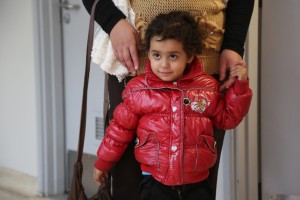 Mariam is improving and spending Christmas with her family in Menia
Mariam is a 3 and a half year old girl from the Upper Egypt province of Menia. She was just about to leave the Hospital with her mother when I met her at the day-care area after she had received a shot in the back. I asked her mother about her general condition and whether they would be able to spend Christmas at home in Menia. I learn from the mother that Mariam was admitted six months ago to the Hospital. She had been suffering from high fever, and lumps started to develop on her belly and all over her body. The doctors she saw suspected something wrong with her spleen and required certain tests which ultimately revealed she had leukemia( low risk ALL)
At this point, the Mother exclaims: I am so grateful to each and every donor who contributed to the establishment of 57357. When I first learned she had cancer, I was crying all the time, fearing I would not have enough money for her treatment. But as I came here and was offered for free the best of care by her physician, Dr. Iman Sidhom and the rest of the healthcare team, my fears faded away: Mariam was getting better soon after her first dose of chemotherapy and the lump in her belly was slowly disappearing. I was reassured seeing how much Mariam was surrounded with quality care, love and compassion.
As for Mariam, she is so excited that she will be able to go back to her friends and her hometown in Menia and wear a new dress for Christmas.
Donate to research at 57357 that pursues to enhance the care and outcome of many more patients like Mariam. Donate so that Mariam and her peers would find cure and hope for a better future!
A joint research study on very low risk ALL patients between Children's Cancer Hospital Egypt 57357(CCHE) and St. Jude Children's Research Hospital is aiming to decrease toxicity and morbidity of the treatment of a special category of childhood acute lymphoblastic leukemia (ALL). The under study modification of the standard treatment protocol consists in eliminating two additional chemotherapy drugs in the first treatment phase and reducing the duration of drug intake for the treatment's third phase. This modification would apply to a special category of low risk patients including Mariam which fulfill certain criteria and exhibit a certain response to treatment indicated from lab tests carried on the 19thday of drug intake. The application of the modified protocol started in 2011 and it is highly expected that this protocol will achieve a 95% success rate
.