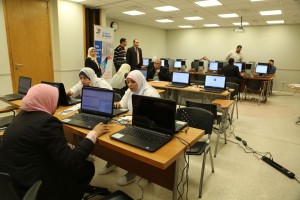 57357's new staff learning and development program was launched on January 20, 2014. Through this program, some 2000 workers and healthcare professionals of three 57357 affiliated institutions CCHE, CCHF, and AFNCI will be receiving benchmark practical academic knowledge via the blended and targeted training approach. This will result in improved delivery of healthcare services, new possibilities for career enhancement, and the birth of a new generation of healthcare professionals positively impacting this industry as a whole. "Blended training", is a form of knowledge acquisition which is carried out through E-learning and workshops led by facilitators.
A new Learning Management System (LMS) has been implemented to ensure ease of use and accessibility to hundreds of E-learning courses. The new LMS has been installed with a public IP so employees can access training from outside work.
Training needs assessment has been carried out for the three affiliates' employees to include core competencies courses (3) to be taken by all staff, 2 managerial courses for staff at the managerial level, and 3 functional courses specific to each and every department. All core and managerial courses have been uploaded on the LMS. In the course of the coming 6 months, functional courses will be uploaded according to department needs to some 1500 employees
The first core competencies course to be taken by all staff dealt with communication skills.  75% of all staff passed the course representing 1700 employees from the Hospital and the Foundation.  A negative feedback from the pilot group taking the second course compelled the LMS committee to resort to another provider.  The second offered core course deals with customer service and will be available for all staff in the coming week.
Recently, the L&D department is developing a document management system that will ensure that documents and records are up to date, accurate, accessible and secured.
Deadlines were impacted on several occasions due to internal and external variables. But by resolving the different unpredictable issues, L&D has developed the skills needed to improve its services
.