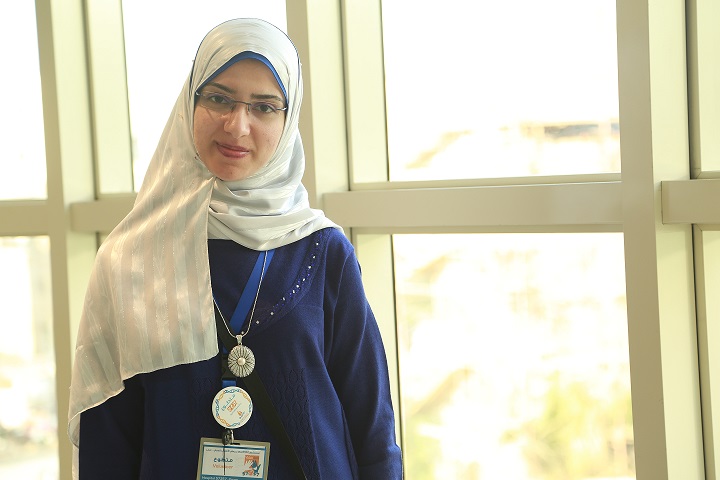 I have been told she is a godsend angel of mercy. Dr. Reda Samuel , palliative care unit head, often spoke about her devotion and compassion for his patients. I was curious to meet her ; but at the volunteers office  they told me she was too modest  to talk about herself or her work. Finally, she came to my office as I insisted with Dr. Reda to arrange a meeting with her.
Nourhan Gamal Younes is a 24 year old psychology graduate from Ein Shams University and currently working on her Masters degree to become a clinical psychologist. It has been two years that she is a full time volunteer at 57357, coming daily from 8am till 5 or6pm. But before joining the 57357 volunteers' team, she spent many months coming regularly to the Hospital just to sit at the entrance to observe the patients and their families as they were being admitted.  Nourhan is currently dividing her time between the palliative care patients and the rest of the in-patients. It was not difficult for Dr. Reda to convince her to spend some of her time in end of life care.
Nourhan is a frail, petite, graceful, and neat looking young woman. She carries a lovely smile and a gentle peaceful tone of voice. Her mother tells her that since a very young age, she was strikingly attentive and understanding with people.  "I am a good listener", says Nourhan, I have patience for people's needs and problems. Very early on, when I was still in school, I knew I would major in psychology. Inspired by my service to patients and families at 57357, my thesis subject will deal with a therapeutic program for children designed to combat depression, loneliness, seclusion and fear of death.
I asked Nourhan what was the secret of her serenity and hopefulness despite her constant interaction with the sick, the depressed, and the hopeless.  She tells me that she walks regularly and keeps close contact with all her patients and their families. Nourhan wishes to be of service to many more sick children, but her parents are complaining that they do not see much of her. "My greatest reward is to see a mother smiling at last to see me succeeding in feeding her child who was categorically refusing to eat" says Nourhan. "My husband to be has to be himself a volunteer " she adds vehemently.
.